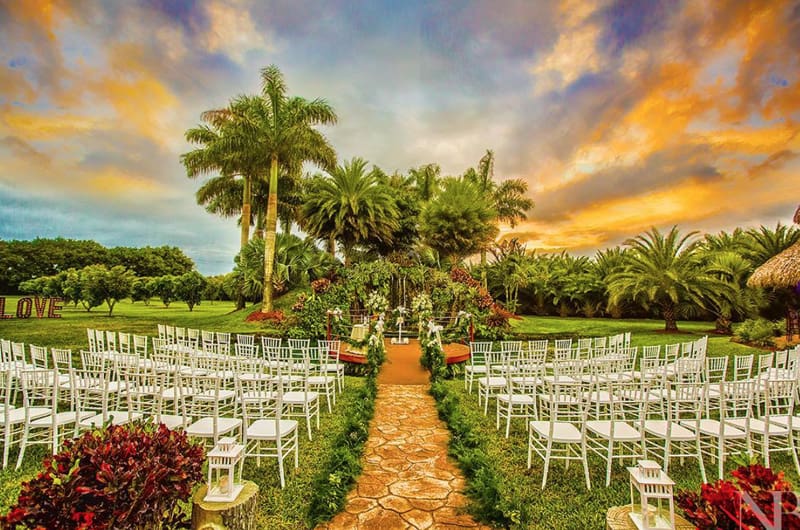 In the world of Miami destination weddings, few venues are as charmingly distinctive as Longan's Place. As anyone who has looked through the website LongansPlace.com would know, this enchanting setting blends the tropical allure of South Florida with the convenience and comprehensive offerings of a high-quality wedding venue, creating a perfect setting for that dream destination wedding.
A Setting Like No Other
Nestled amidst Miami's scenic landscapes, Longan's Place is an idyllic tropical oasis that presents an atmosphere of magic and romance. The venue boasts an expansive 5-acre property that truly embodies the vibrant and diverse eco-beauty of Miami. With its lush greenery, tranquil waterfall, and pristine pond filled with beautiful fish, it creates an environment that speaks of serenity and timeless beauty. The venue was specially crafted to provide the most photogenic backdrops for couples exchanging vows under Miami's beautiful sky.
Comprehensive Wedding Packages
Exquisite Indoor and Outdoor Spaces
Exceptional Service
Sustainability
The Experience
What sets Longan's Place apart is its commitment to a comprehensive wedding experience. The venue not only provides an exquisite location but also ensures the smooth planning and execution of your wedding. Peruse the website to get a clear overview of their comprehensive services. The full-package weddings encompass everything from catering, music, and flowers. The all-inclusive packages ensure that couples can focus on what matters most — celebrating their love surrounded by friends and family — without worrying about logistical details.
The picturesque outdoor ceremony area and the reception hall are other highlights of this venue. The ceremony area, with its resplendent garden and captivating water features, sets the stage for an unforgettable exchange of vows. The reception hall, on the other hand, is a versatile space that combines rustic charm with state-of-the-art lighting and sound. It can comfortably accommodate up to 180 guests, making it perfect for intimate as well as more sizable celebrations.
What Brand New Couples, Friends, and Families Say About Longan's Place
The testimonials affirm Longan's Place is committed to service excellence. The glowing reviews display the expert team that goes above and beyond to ensure that each wedding is a memorable occasion. The high praise for their dedication, professionalism, and friendliness testifies to their ethos of personalized service, transforming the venue from a mere location into a partner for your dream wedding.
Convenient, Close, and Accessible
One key aspect of a destination wedding is accessibility. Conveniently located in southwest Miami, Longan's Place is a short drive from Miami International Airport, making it easily accessible for guests flying in from different parts of the country or the world. Furthermore, Miami offers an abundance of accommodation options, ranging from luxury resorts to boutique hotels, ensuring a comfortable stay for your wedding party.
The Lush Environment
Longan's Place also stands out due to its commitment to sustainability. The beautiful landscaping is maintained with a focus on preserving the local flora and fauna, and the use of water features is strategic, aimed at supporting the local ecosystem. This balance between nature and celebration ensures a guilt-free, green wedding experience for eco-conscious couples.
In essence, Longan's Place isn't just a wedding venue; it's a total package, providing an elegant setting, comprehensive services, and a dedicated team. Its enchanting landscape, coupled with Miami's tropical allure, makes it the ideal choice for couples seeking an unforgettable destination wedding. As you exchange your vows amidst the lush greenery, the cascading waterfall, and the gleaming Miami sky, Longan's Place becomes more than just a venue; it becomes a part of your love story.